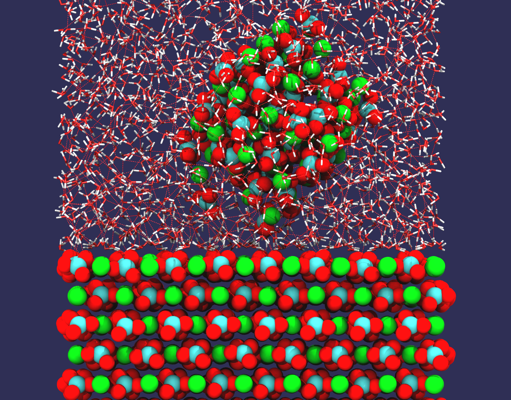 The atomic force microscope (AFM) can be operated in liquid environments, where it can be used to image flat surfaces with high resolution, study the structure of hydration layers, or image and manipulate biological systems on the nanoscale [1]. However, in all these applications, the tip-surface interaction mechanism is more complicated than in vacuum or air, and therefore generally not well understood.
In order to better understand AFM imaging in water, we chose calcite as a model system. The calcite (10-14) surface has been studied extensively, because of its important role in bio-mineralization, industrial applications, and as substrate for biomolecule growth and manipulation. Although recent atomically resolved non-contact AFM images of calcite in water [2] resemble those obtained in UHV [3], the imaging mechanism in liquid is more complicated [4], due to the presence of hydration layers around the tip and above the surface. Displacing these confined water molecules leads to significant entropic contributions to the force on the AFM tip.
In this work, we study the AFM imaging mechanism of calcite in water using molecular dynamics simulations with empirical atomistic interaction potentials. The system, consisting of several layers of surface material, water, and the tip apex represented by a nanocluster, is simulated at constant volume and room temperature. We carry out many individual simulations, in each of which the position of the tip above the surface is constrained by a harmonic potential. We then use the 'umbrella sampling' scheme to compute a continuous free energy profile of the system, as a function of the tip-surface separation. The derivative of this free energy with respect to the tip-surface separation is the best estimate for the force acting on the AFM tip, as the important entropic contributions from interactions with hydration layer water molecules are correctly taken into account in the free energy calculation.
The force-distance curves obtained with this procedure can be directly compared to force spectroscopy data from experiment. We also use a 'virtual AFM' tool, recently developed in our group, to simulate AFM images based on these force-distance curves. This enables us to fully understand the imaging mechanism, and to interpret the contrasts observed in high resolution images.
[1] D. J. Müller and Y. F. Dufrêne, Nature Nanotechnology 3 261 (2008).
[2] S. Rode et al., Langmuir 25 2850 (2009).
[3] J. Schütte et al., Langmuir 26 8295 (2010).
[4] M. Watkins and A. L. Shluger, Phys. Rev. Lett. 105 196101 (2010).