IC Proxima Ariane
Born 4.4.1996, ruddy female (ABY n). Pedigree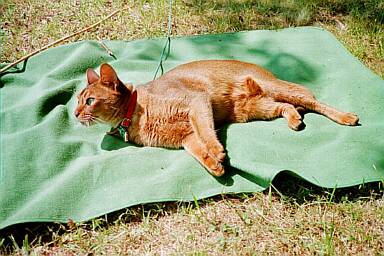 Nana is the answer to my prayers. When JoJo was pregnant I wished I would get a ruddy girl to continue my breeding with. She is an elegant but nice-sized (meaning that she is considerably larger than her tiny mum) female and has had two litters (B with IC Silkkihienon arktika C-rum, ABY n, and C with IC Van Grebst Peter, ABY n). The kittens all have wonderful warm colour and have made me very proud. She has grown older gracefully, is still full of energy and a real wildcat when playing.
IC Proxima Bel-me-khi-ra
Born 3.12.1998, ruddy female (ABY n). Pedigree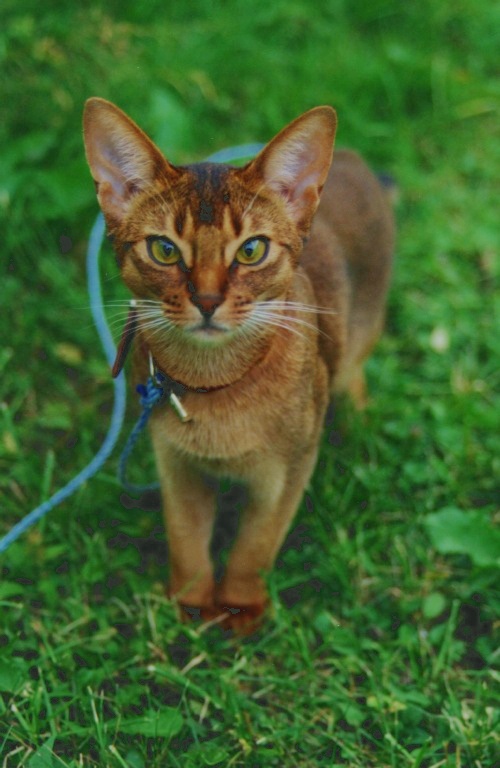 Kira is a sensitive lady with a somewhat rebellious attitude. I especially like her expression, and the short and close lying texture of her fur. Her best friend is Hanna. Kira's first babies (with Coltrane di Quodlibet, ABY n) were born early 2001, litter D. She proved to be an excellent mum who diligently takes care of the little ones' every need. Her second litter with IC Aucuparia's Krokus (ABY o; litter F) was born in August 2002. Kira was spayed in December 2003. I felt she needed to become a beloved pet, and when I look at her today, I think I made the right choice.
Ch Proxima En Hedu'Anna
Born 19.6.2001, ruddy female (ABY n). Pedigree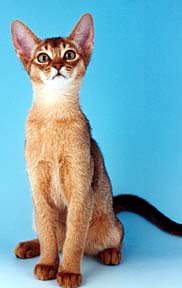 What a clever girl Hanna is ! She knew I was not going to keep any of the E kittens, so she consulted her mum how to stay anyway. Obviously, having been through that herself, Kettunen gave very good advice ! So, after sleeping under my shirt, purring like mad and looking incredibly cute (just like her mum), it was impossible to give her away. She does have other assets as well -her beautiful looks ! She was the wildest kitten I had ever seen ! She wants to play, play, and play some more, and after playing it's time for endless hugs and kisses...
To my delight, Hanna grew up to become a beautiful, playful lady. She had her first litter (G) with EC Private Dancer van de Abbai (ABY n) in January 2004. Hanna had her second litter (I) in January 2008 with Rackarkatten´s Paco Rabanne (ABY o).
Photo © Robert Fox 2001
Redcheetah´s Tähti
Born 28.11.2007, ruddy female (ABY n).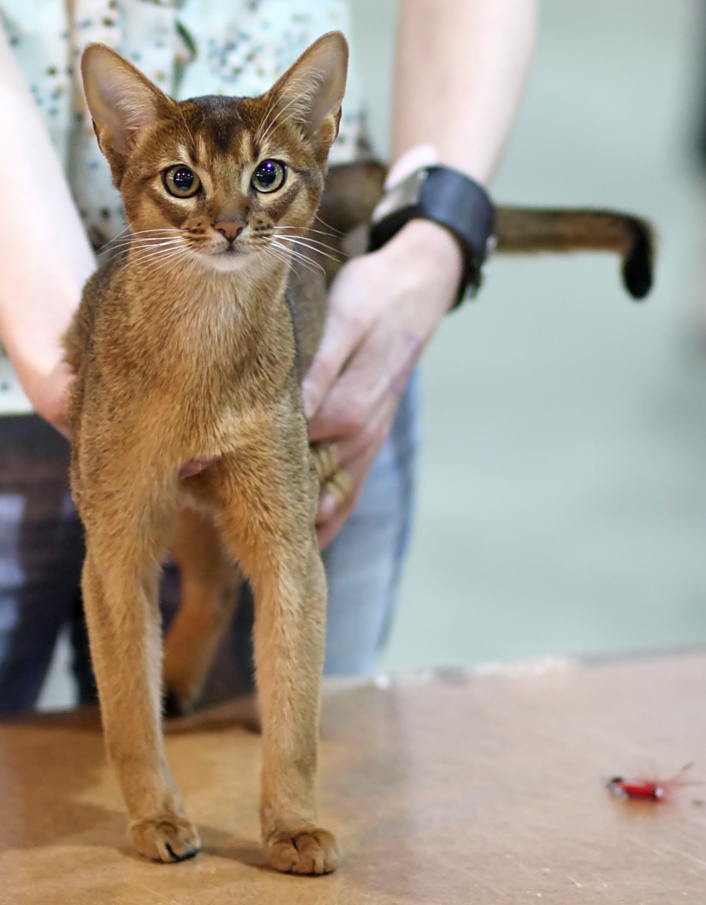 How do you describe the perfect kitten? Well, here she is -Tähti (also known as Täystuho). She has a superb character combined with good looks, but what really makes her so special is her sweet, kind temperament. Like her grandmum Hanna, she is very (very!) wild but extremely well-behaved and adorable at the same time. She is also the first kitten since JoJo from "outside" my own breeding, even if not from very distant lines -her mum is Proxima Gepardi, owned by Ritva Santara. We are all very much in love with Tähti -to know her is to love her.
Photo © Heikki Siltala 2008
Forever beloved