EP Proxima Armstrong
4.4.1996 - 27.8.2008, ruddy male (ABY n). Pedigree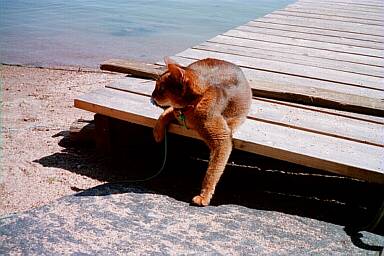 RonttiKolli is Nana's brother, a large neutered male with a fur colour that matches his mum's. I wish all my abys would have his colour -it is amazing. He is a sweet boy who likes to give love bites! Unfortunately, the aby girls started teasing Rontti increasingly, and finally I had to make the painful decision of finding him a home where he can live in peace and quiet. Thank you Katja for giving him the love and security he deserves!
Ch Proxima Centauria
6.1.2000 - 26.4.2006, ruddy female (ABY n). Pedigree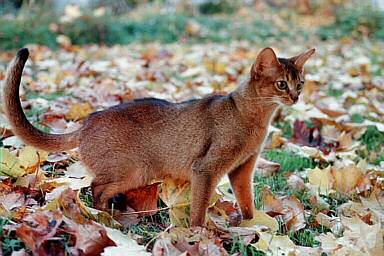 Kettunen had a true sunshine personality -always purring, always looking so incredibly cute. She looked beautiful already at 4 weeks and grew up to become a stunning lady. I admired the lovely wedge shape of her head, and the size and setting of her ears! She had her first litter (E) with EC Silkkihienon Ad Astra (ABY n) in June 2001, and the second (H) with Orionis Atik (ABY n) in October 2004. She produced kittens that are as beautiful as their mum, and I am so proud of her. I did not have a chance to say goodbye to her due to the sudden nature of her death, and it has made the loss feel devastating. Her absence is painfully noticed everyday as she used to follow me wherever I went. I miss her large luminous eyes, silently guarding me, always somewhere near...
Mi-Amor Dona Jo'Anna
8.2.1994 - 13.3.2001, ruddy female (ABY n), breeders Suvi & Jorma Kaima, Finland. Pedigree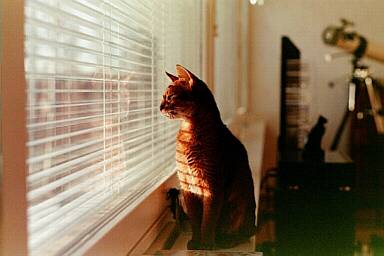 JoJo was my second abyssinian. It was obvious that I would get another aby since Atti had put an everlasting aby-spell on me. JoJo was a tiny little creature with her ears very much on top of her head and not-so-big eyes, but her fur had unbelievably rich and glorious brownish red color. She had one litter with EC Angelos Idaho (ABY n) and produced the very first Proxima A-litter.
It has been so painful to say goodbye to this sweet cat of mine who too soon departed this world. Some of my best memories ever are attached to JoJo -the things we did during her first summer (we went everywhere together), my first kittens, and how devoted she was to me and my husband. There will never be an aby like her, and I miss her so much.
Ticks Atti
11.1.1984 - 25.3.1994, ruddy female (ABY n), breeder Maija Jantunen, Finland.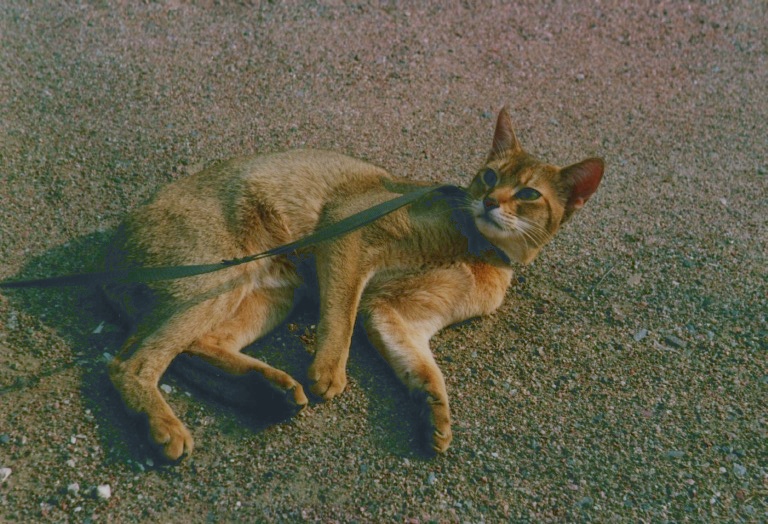 Atti was my very first aby. I had always admired the beautiful abyssinian cats pictured in books, and also knew about their interesting background and the alleged connection to ancient Egyptians. Finally my family decided to get one of these graceful creatures, even though at the time we had no idea if any even existed in Finland. They did, and we got Atti. She looked very different from today's abys. She had a very light fur color, almost grey, her ears were small and her nose was long. But she had a wonderful character and we loved her so much. Her death was one of the saddest moments in our lives and it took us all a very long time to recover. I thank Atti for being the very first, and for showing me that life without abyssinians has no meaning.